From lefse making to gift exchanging, the holidays are a wonderful time to gather and celebrate with food, fun and favorite family traditions.
Whether you live far away from your elders or you're seeing them for the first time since before the coronavirus pandemic limited in-person visits, you might find yourself on high alert for signs of physical or cognitive changes.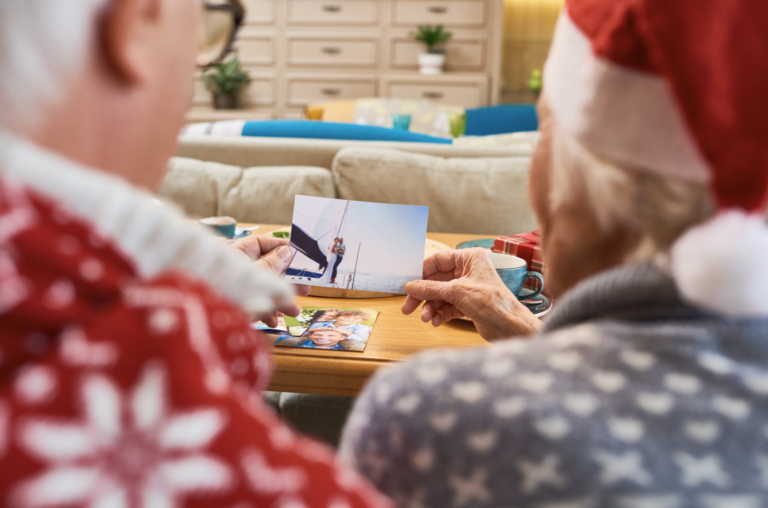 First off, that's normal. Because you love the seniors in your life, you want what's best for them (and so do we). Likely on the top of that list is your wish for them to have a great quality of life, so it's natural that you want to spot signs of a health decline before they become a health crisis.
Abby Papenfuss, director of social services and admissions at Eventide Fargo, is typically the go-to contact person for Eventide residents and their families. She said that a lot of red flags people identify after not having seen a parent or loved one in a long time might not necessarily be indicative of a serious problem.
"Something concerning would be activities that affect quality of life, like not remembering how to get dressed in the morning," Papenfuss said. "But if Dad forgot to pay the rent one month, that isn't necessarily a concern unless it happens repeatedly."
So what health concerns should you be worried about if you notice changes in your loved one? Here's a list of five common health concerns and how to address them in a way that's rational and won't cause undue anxiety for you or your loved one.
#1 Changes in hygiene or dressing inappropriately
Unusual body odor, unwashed hair or not wearing a winter coat in cold weather can be signs of cognitive changes, but only if these behaviors are a change from the norm.
"If your loved one is usually dressed up and wearing makeup, and always looking prim and proper, and then all the sudden they're not, that's when I would worry," Papenfuss said. "If the person has always been a little unkempt, then maybe that's just their normal way of living."
Even if someone is unusually unclean when you visit, it could be a simple fix. "They might not be doing their laundry because they have a sore back and can't lift the laundry basket," Papenfuss said. "Families can mistake this for cognitive decline, when really, their loved one needs a little more physical help and medical care to address the issue."
#2 Memory trouble
Don't jump to the conclusion that your father has dementia because he couldn't remember your cat's name, Papenfuss said. A lot of memory "issues" are just normal functions of a brain that needs to dump less important information to make room for new stuff (sorry, Fluffy).
However, if your loved one is struggling to remember your name, then there might be a cognitive concern that needs addressing.
"Other memory issues that we see often are people not remembering how to get home on a route they've taken their whole lives, or forgetting important parts of their history, like where they worked and what their favorite TV shows are," Papenfuss said.
If your loved one's memory has you concerned, though, don't rush to the conclusion it's a type of dementia or Alzheimer's. Lots of other things can cause memory loss, like vitamin deficiencies and depression.
#3 No interest in social activities
If your loved one has lost interest in hobbies, exercises, classes, crafts or other activities they used to enjoy, that withdrawal also may have an underlying cause unrelated to dementia.
"An elder who has seemingly lost interest in the sewing club, for example, might just be having vision problems that stops her from wanting to participate," Papenfuss said. "In that case, a visit to the eye doctor is in order."
While a loss of interest in social activities can be an easy fix, like getting an eyeglass prescription updated, it can also be an early sign of cognitive disease. In that case, the best thing to do is encourage your loved one to make a primary care appointment.
"Encourage them to go to their regular doctor and say, 'I can take you to that appointment, and I can go with you to the appointment,' " Papenfuss said. "Be encouraging but don't push the issue if they get defensive."
In that case, the best course of action is to table the issue for a later time unless you believe your loved one is in danger. If a lack of interest in social activities is due to a loved one not wanting to drive to events or leave the safety of their home in winter months, living at a senior living community, even if entirely independent, may be a good fit. Residents enjoy a robust calendar of activities and events, as well as transportation. Time and time again, family members are astounded by how much their loved ones thrive once living in an Eventide community.
#4 Weight changes
If you notice changes in your loved one's weight, that could be a sign they are forgetting to eat or not finishing their meals.
On the other hand, they might have a toothache or other physical ailment that needs to be addressed so they can regain their appetite and put on a few pounds again.
Papenfuss said keeping an eye on weight loss or gain regardless of its cause is quite important. "It's especially important to take note of weight loss, since the impact of not eating or drinking properly can cause severe physical health problems if it isn't properly treated," she said.
#5 Difficulty managing daily activities and tasks
Papenfuss said, "If they've always had a clean house forever, and then you come home for Christmas to find dishes piled up and laundry piled up, that's maybe a sign that something is off."
Other activities of daily living that may be a sign of health decline are:
Poor dental hygiene
Inability to manage time
Difficulty keeping track of appointments
difficulty using familiar technology
Missed medications
When in doubt, talk it out
As with all other concerns, the best strategy as a care partner to your loved one is to be patient, ask questions and be supportive.
Some safe conversation starters are:
"I noticed you having difficulty with XYZ. I'm here to help. Can we talk about it?"
"What do you think about seeing a doctor about how you've started forgetting XYZ?"
"What do you think would help you with XYZ?"
Employing such an approach will lessen the risk of a loved one getting defensive or starting to fear the dreaded "assisted living" conversation if that is something they've resisted in the past. Giving them options to control the conversation empowers them and maintains their independence, both of which are important aspects of healthy living.
Care at Eventide: focused on every stage of life
If your loved one lives in a senior living community like Eventide, Papenfuss said staff is trained to monitor and record concerning changes in people's abilities, behaviors and activities of daily living.
"The nice thing about senior living is that there are professionals who see residents every day, sometimes for hours at a time, so they are really good at spotting health decline and will always inform the person's main contact of any changes so they can be addressed."
Likewise, if somebody is in Eventide assisted living or independent living, but they get to a point where they're needing more help, that's where the continuum of care comes in.
"It's how we at Eventide are able to ensure the health and happiness of all our residents no matter where they might be in life," Papenfuss said.
If you'd like more information about how Eventide can help you navigate health changes in your loved one, contact Eventide Senior Living Communities at info@testingblogsit.wpengine.com.
Happy holidays!