An artist's rendering of a loft inside Sanders Flats. Apartments have in-unit laundry, spacious storage, handicap accessibility, high-speed internet and more.
Over the last decade, technology has enabled us to enhance programs and services that help our community members maintain and improve their health and well-being every day. From top-of-the-line health equipment in our wellness rooms to mobile devices that keep us connected no matter where we are, it's never been a better time to live in a 55+ community.
What's also changed significantly is our culture. The needs and wants of our generation of seniors is different than it was 20 years ago. Today's retirees still enjoy woodcarving and book clubs (who doesn't?), but more than ever, they're also interested in fitness, virtual events, travel, cooking classes, and staying connected to local events and issues.
At Eventide, we innovate with the times while maintaining the high quality of support and care our communities have come to expect from us.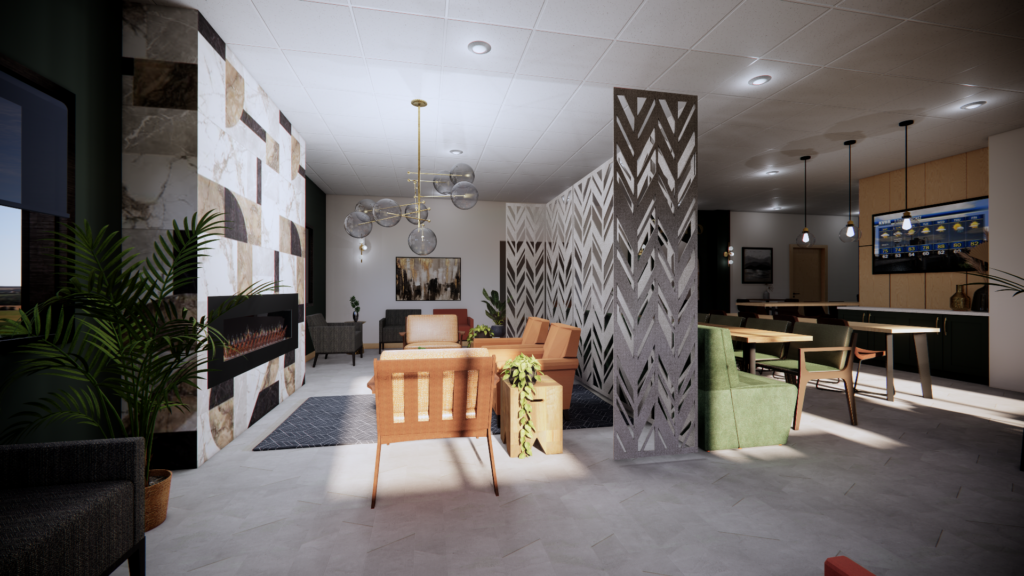 Artist's rendering of Sanders Flats community room.
Welcome to Sanders Flats
From now until 2030, 10,000 baby boomers will reach retirement age each day, according to A Place for Mom, and we want to be sure we're building communities that suit modern preferences.
To help answer the needs and wants of our new generation of seniors, we've developed Sanders Flats, state-of-the-art apartment living for people ages 55 and older who are looking to downsize or have already freed themselves from the responsibilities of full-on homeownership.
Sanders Flats is innovative, modern apartment living for people ages 55+. Designed and managed by Eventide Senior Living Communities, the space is connected via skyway to Eventide at The Linden in Moorhead, Minn.
We broke ground in 2022 and the building is scheduled for completion in December. Here are more details about this new community.
Living at Sanders Flats
Sanders Flats is exclusively for people 55 and older, so the grandkids are welcome to come visit, but residents won't have to worry about noisy kids running the hallways as they would in multi-generational apartment living. 
With high-tech amenities in a quiet, secure environment, this active adult community is perfect for individuals and couples who want a place to call home when they're not traveling, heading to the lakes in the summer or flying south for the winter. 
Community Features
1-, 2- and 3-bedroom options

Pub and community room

Golf simulator

Self-serve bistro

Fitness center

Underground parking

Utilities, cable and internet included

Skyway access to Eighth Street Eatery (takeout and delivery available)
This artist's rendering shows the kitchen area of an apartment unit inside Sanders Flats.
Contemporary design
Sanders Flats looks and feels like a boutique hotel. It's modern, clean, with a neutral color palette that makes any style of furniture and decor look great. The 1-, 2- and 3-bedroom options are all spacious, with high ceilings, roomy bathrooms and living rooms with plenty of natural light. 
Theater
Bring the whole family over for movie night in the theater, which seats more than 20 people. of your favorite family and friends.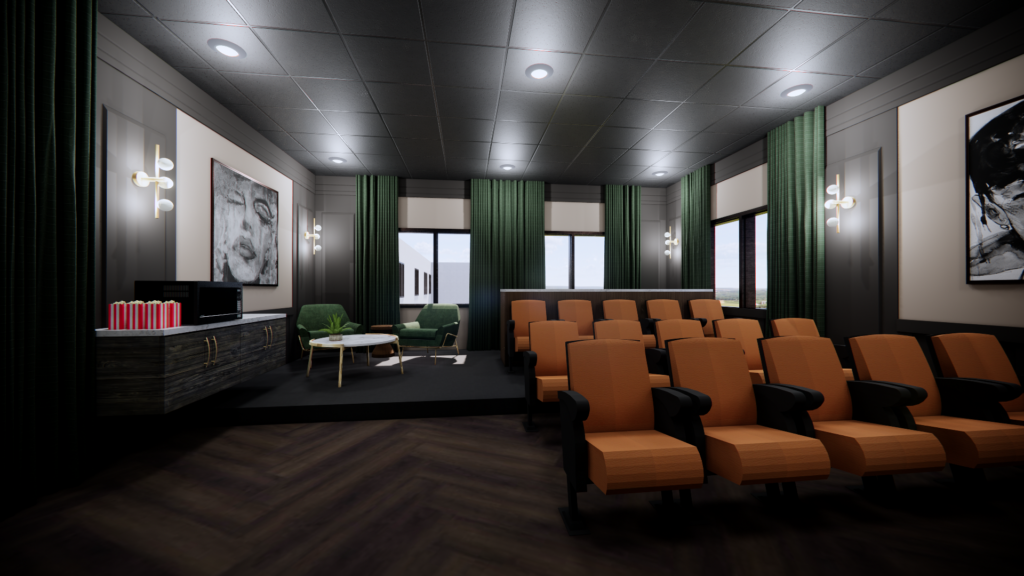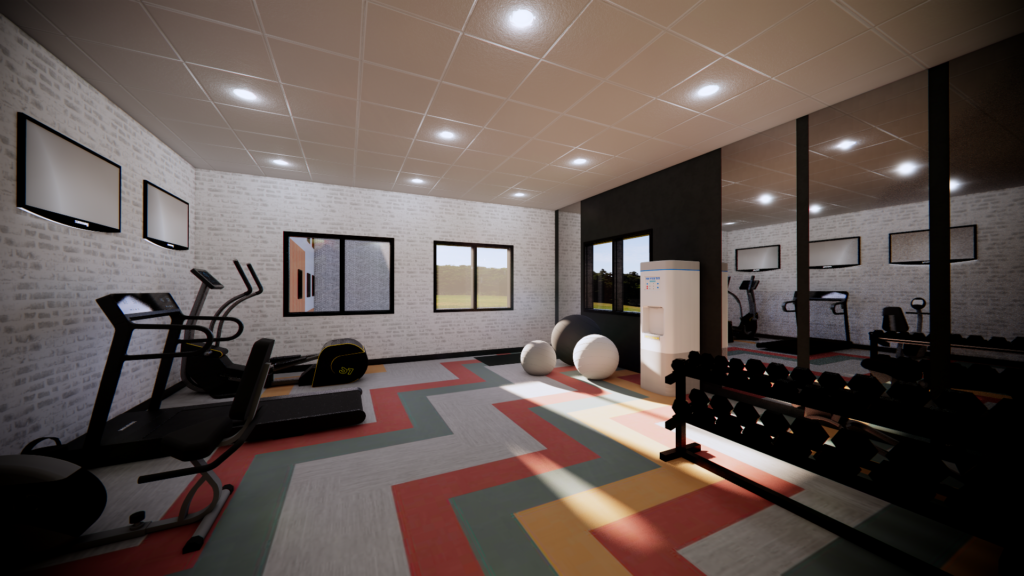 A rendering of Sanders Flats' community fitness room.
Pub, bistro, golf simulator
We've taken the latest technology and applied it to many aspects of Sanders Flats. There's a golf simulator in the community room next to the self-serve bistro and pub.
Premium fitness center 
The fitness center includes treadmills, weights and balance balls and other equipment to keep our wellness-minded residents healthy, strong and feeling great.
Underground parking
We know how winters get in Moorhead. We also prioritize safety and security, so we made sure when designing the space that Sanders Flats included underground parking. 
Convenient location
Sanders Flats is located about a half a mile north of the I-94 exit in Moorhead, which makes it ideal for commuters. The building is connected via a skywalk to Eventide's Linden community so Sanders Flats residents can order takeout from the Eighth Street Eatery.
We want every member of our community to experience life at its best, no matter how they define it.
Extra perks
Because Sanders Flats is connected to Eventide on Eighth in Moorhead via skyway, residents have easy access to Eighth Street Eatery, which is located in The Linden. Takeout and delivery are also an option.
In-unit laundry, utilities, cable TV and internet are included in monthly rent, which starts at $1,795 for a 770-sq. Ft. 1-bedroom and up to $2,895 for a 1,200 sq. ft. 2-bedroom, 2-bath. To get a better sense of the spaces available, check out these renderings.
Looking forward to the future
Eventide is incredibly excited to introduce this new community option. We've truly paid attention to every little detail so that future residents will have a place to call home that fits just right.
If you'd like to request a tour or more information, our team is ready to connect. Reach out to us anytime, and here's to easy living at its best!