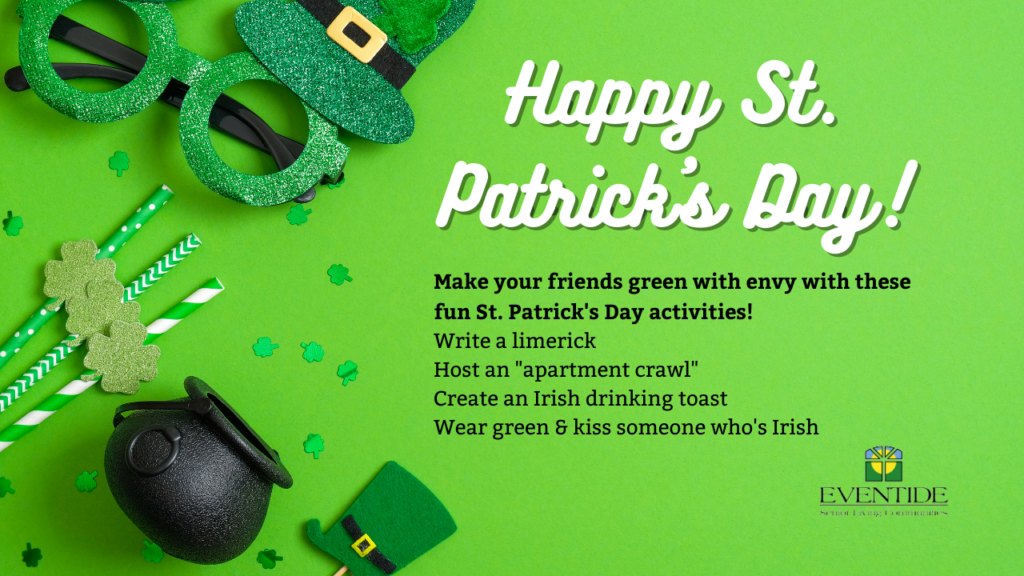 The nice thing about St. Patrick's Day is that there's always something fun to try with friends and family that doesn't require dancing a jig in clogs or drinking alcohol to excess.
This St. Patrick's Day, try your luck on four activity ideas from Eventide's Life Enrichment Team. We chose four ideas to honor the luck of the four-leaf clover. Good luck and have fun!
Write a limerick
Limericks are often funny, world-play-type poems you recite out loud in front of friends. They're always five lines long and only require knowing how to rhyme and count syllables. A little humor always helps, too.
The first, second and fifth lines must rhyme.
The third and fourth lines rhyme.
The fourth line requires 5 to 6 syllables.
The fifth line requires 8 or 9 syllables.
Example:
There was a man from Jamestown
Who danced all night in an evening gown.
His neighbors gawked,
His family squawked,
But never did he stop getting down.
Need some help?
You don't have to be an experienced poet to write a limerick. Simply add a few words to this limerick generator and you'll have your very own prose in no time.
Organize an "apartment crawl"
Just like a pub crawl, an apartment/house crawl is a traveling party, only all you need are a few fun neighbors.
Invite a few neighbors to participate
Ask each one to provide a treat or special drink
Put on some Irish-themed music
Travel to each other's abodes and take a little tour for treats
A lot of apartment crawlers like to create scavenger hunts during festivities. Try hiding chocolate coins in common areas for guests to find and enjoy.
Create your own Irish drinking toast
Whatever you put in your glass, say "Slainte" (or "cheers") with a toast to your friends and family. It can be as simple as, "Thank you for being part of my life," or maybe you'll want to recite your limerick in front of a crowd.
Of course, there are plenty of traditional Irish toasts to draw on if you wish to be authentic in your St. Patrick's Day celebration. Just a word of caution: some of them are not for the faint at heart!
Read: Traditional Irish Toasts
Power up your luck
Of course, no St. Patrick's Day celebration would be complete without leveraging the luck of the Irish. Here are a few ways to power up on your luck:
Look for a four-leaf clover
Wear green or blue
Kiss someone who's Irish
Pinch someone who isn't wearing green
Eat Irish soda bread