When Vera Schulz moved into her apartment at Eventide Jamestown a little over a year ago, it just so happened to be her birthday! It was a gift to herself and she said she will never forget the anniversary of the day she moved in. Moving into Eventide was a good decision and one she made for herself.
"I knew I didn't want to take care of the house anymore and my family was so happy that I decided to move here and that it was my idea. I feel very safe here and everyone is kind and helpful," said Vera.
From the first day Vera moved in, she was pleased with the camaraderie that exists amongst the residents. She even reunited with two childhood friends – one of which is her next door neighbor now!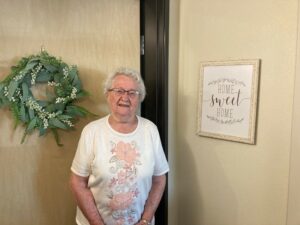 Vera Schultz, outside of her apartment at Eventide Jamestown Senior Living
Vera grew up near Gackle, ND, and went on to Valley City State University after she graduated high school. She then taught for five years before getting married. Vera and her husband farmed and raised six children near Woodworth. After 52 years on the farm, they moved to Jamestown.
In everything Vera shares there is an element of positivity to her. It's clear that having a good attitude is who she is and she continues to carry it with her each day.
Here are 10 of her wisdoms, which reflect her gratitude for being part of the Eventide Jamestown community and how she has kept her sunny outlook:
Stay active! "I exercise three days a week here. I would never do that on my own."
Have fun! I play games and am involved in the activities and go to all of the entertainment offered. I love music! I would recommend this place to anyone.
Don't worry about downsizing or giving up the things you've had all these years. "Keep in mind – the days you spent with all of this stuff have been good, but the time has come to take a different step. I told myself now is the time to choose a few things that are very meaningful and I kept them."
Don't do what you don't want to do. "I don't have to cook! I cooked many a meal for many years. Now I enjoy good food and enjoy it with others. And I don't have to clean up!"
Safety first. "At Eventide, you are well fed, they take good care of you and you feel safe." Vera accidentally pulled the emergency cord when she first moved in and found out it works! She was impressed by the quick response time.
Life is short, enjoy it! "I am not going to waste time with a bad attitude."
Never carry a grudge. "My father raised me to let go of things and never hold a grudge. I live by that and taught my own children to do so too."
Run a tight ship and be organized. "I learned that from my mother. She was always prepared and organized."
Don't complain. "If something is bothering you, do something about it."
Life is meant to be lived. Always. "Move forward, don't stand still."
When Vera Schulz moved into her apartment at Eventide Jamestown a little over a year ago, it just so happened to be her birthday! It was a gift to herself and she said she will never forget the anniversary of the day she moved in. Moving into Eventide was a good decision and one she made for herself. "I knew I didn't want to take care of the house anymore and my family was so happy that I decided to move here and that it was my idea. I feel very safe here and everyone is kind and helpful," said Vera. From the first day Vera moved in, she was pleased with the camaraderie that exists amongst the residents. She even reunited with two childhood friends – one of which is her next door neighbor now! Vera grew up near Gackle, ND, and went on to Valley City State University after she graduated high school. She then taught for five years before getting married. Vera and her husband farmed and raised six children near Woodworth. After 52 years on the farm, they moved to Jamestown. In everything Vera shares there is an element of positivity to her. It's clear that having a good attitude is who she is and she continues to carry it with her each day. Here are 10 of her wisdoms, which reflect her gratitude for being part of the Eventide Jamestown community and how she has kept her sunny outlook:
Stay active! "I exercise three days a week here. I would never do that on my own."
Have fun! I play games and am involved in the activities and go to all of the entertainment offered. I love music! I would recommend this place to anyone.
Don't worry about downsizing or giving up the things you've had all these years. "Keep in mind – the days you spent with all of this stuff have been good, but the time has come to take a different step. I told myself now is the time to choose a few things that are very meaningful and I kept them."
Don't do what you don't want to do. "I don't have to cook! I cooked many a meal for many years. Now I enjoy good food and enjoy it with others. And I don't have to clean up!"
Safety first. "At Eventide, you are well fed, they take good care of you and you feel safe." Vera accidentally pulled the emergency cord when she first moved in and found out it works! She was impressed by the quick response time.
Life is short, enjoy it! "I am not going to waste time with a bad attitude."
Never carry a grudge. "My father raised me to let go of things and never hold a grudge. I live by that and taught my own children to do so too."
Run a tight ship and be organized. "I learned that from my mother. She was always prepared and organized."
Don't complain. "If something is bothering you, do something about it."
Life is meant to be lived. Always. "Move forward, don't stand still."