Eventide Senior Living Communities Chaplain Stephen Streed has spent the past 32 years of his career in community with seniors and retirees.
As someone who started college thinking he'd become a watercolor artist, Chaplain Streed is sometimes still surprised by his own life choices, though says he "wouldn't change a thing."
Residents and families top his list of reasons he's considered his career serving senior living communities a calling ever since he walked through Eventide's doors in 1990, a blessing he says is all the richer, thanks to his colleagues, too.
"Our staff is such a foundation for us at Eventide, and every day I thank God for the chance to work with such amazing people," Chaplain Streed said.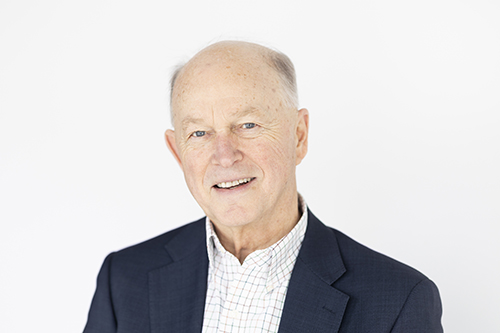 Ten wisdoms
In the 32 years he's worked for Eventide, the spiritual advisor has picked up a few lessons along the way—ones he loves to discuss with residents, their families, colleagues and community leaders.
We think his insights are pretty shareable, so here are 10 of Eventide's favorite wisdoms from our beloved Chaplain Streed, an Eventide #DifferenceMaker.
Trust your gut
Chaplain Streed went to school to pursue a degree at the Chicago Academy of Fine Art, but when he sensed a calling to serve God, he switched directions and enrolled in seminary at Northwestern. After he graduated, he spent several years as a youth minister and thought he would spend his life working with kids.
"I kind of liked being around the kids, but when I saw an opening at a little retirement community in the Fargo-Moorhead area, I felt like a calling, but it was also a gentle tug from God telling me to go for it," Streed says. "And here I am 33 years later. I didn't think I'd be here this long, but I wouldn't change a thing."
Believe in a power greater than yourself
As the Chaplain for a nondenominational community, Streed encourages each person to share their spiritual journey.
"We were traditionally a Lutheran community," Streed says. "We've learned that people are diverse in their faith and spirituality, and as a Chaplain, my goal is to draw out whatever that means for them so they are connected to the author of life."
If you teach someone to fish …
Streed is an avid fly fisherman and takes frequent trips to Montana with friends. He's learned a lot of lessons from the hobby over the years, particularly about how to read the water.
"You go out there and read the river, and that's how you tell if the fishing will be good," Streed says.
Like most things in life, Streed says reading the river isn't something you just know how to do. You have to learn how to go with the flow.
Be a good listener
Sometimes all a friend or loved one needs is a listening ear.
"Throughout my career, sometimes my job is to just sit and listen," Chaplain Streed says. "People can figure out a lot of things that have been troubling them on their own if you're just there as a supportive listener."
Being supportive is something that comes naturally for Streed, who often "just listens" when Eventide staff need an attentive ear. "This is extended into great working relationships. I've even presided over a few employees' weddings over the years," he said.
Ask good questions
If you let him, Chaplain Streed will ask a lot of questions about you.
"I like to get to know people, what makes them tick, what they love to do and how I can help them grow spiritually," Streed says.
Much like his belief that being a good listener is a wisdom of life, he believes asking questions can also help create harmony.
Make many friends
From his fishing buddies to his wine and dine friends, Chaplain Streed enjoys his downtime, but he also enjoys making new friends and fostering old friendships.
After three decades of helping people at Eventide, Chaplain Streed has made more friends than he can count, including many colleagues.
"I consider all my coworkers friends, too," he says. "It's good to have strong relationships."
Explore nature
Chaplain Streed fulfills his artistic side by painting nature scenes and appreciates getting away from modern life now and again.
Fishing, swimming and kayaking at his lake home is enough to spark more energy and zest for life. He also enjoys a walk through nature with his camera ready to capture a picture to paint.
Love art
An active patron of local arts, Chaplain Streed and his wife, Dr. Odile Streed, a professor at Concordia College, Moorhead, are frequent visitors to local art events.
As an artist himself, Chaplain Streed has hosted a few exhibits in his home city, including a favorite restaurant (since closed) where he often had lunch.
Pray or meditate 
"Prayer, meditation or whatever spiritual connection you have, it's important to reflect on your life in order to learn from past hurts or mistakes and to create room for happiness and peace,"
"Christian, Muslim, Jewish, we welcome all at Eventide, and whatever your spiritual background is, we embrace it," Chaplain Streed says.
Retire when you want to, not when you have to
One's age is truly just a number, and that's clear for Chaplain Streed, who is technically approaching retirement age, but says he isn't ready and that's definitely OK.
"I get asked five to 10 times a week, 'Are you going to retire?'" Chaplain Streed says. "And I'm not ready yet. I love the residents, family and staff. Why would I ever want to do anything else?"
Thank you, Chaplain Streed, for your commitment to Eventide Senior Living Communities. You are a #DifferenceMaker to everyone you meet!