Janet Clemons looks for ways to make a difference every day she works.
Sometimes it's as simple as offering to help fold clothes with a resident in the long term care unit at Eventide Sheyenne Crossings, where she works as a charge nurse.
Or making sure a resident gets to enjoy her favorite can of Coke each afternoon.
Janet's  goal is to make residents feel safe and comfortable.
"This is their home," she says. "My job is to get to know our residents, so I can understand them and advocate for them."
Janet began working at Eventide's Sheyenne Crossings in 2017 as a nurse in the transitional care unit. As a new LPN, she wanted to learn from good nurses and she had heard good things about Eventide's staff.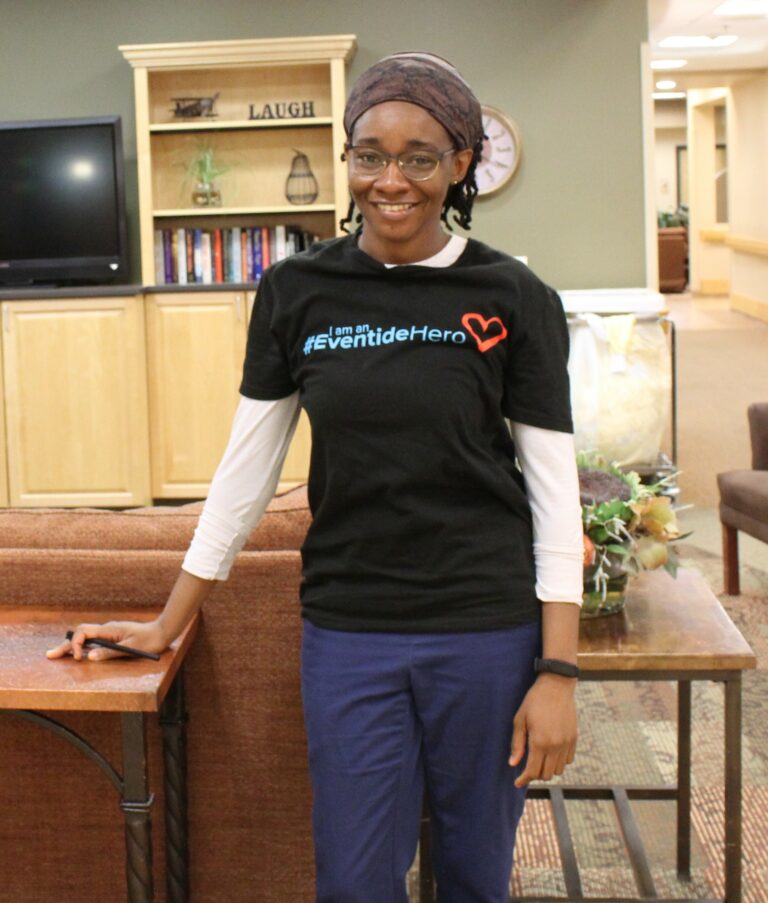 Janet Clemons, charge nurse at Eventide Sheyenne Crossings care center
At Eventide, she has had opportunities to grow but has never felt overwhelmed.
"The people who work here want to be here," she says. "We work together and support each other because we all care about the residents."
In 2019, Janet moved to Eventide Sheyenne Crossing's long term care unit where she serves as a charge nurse on the weekends. Among other duties, she oversees health assessments of residents, schedules appointments and communicates with family members.
Working fulltime on weekends allows her to take care of her toddler daughter, Alexandria, and attend school so she can earn her RN degree.
Once she earns her RN degree, Janet plans to stay at Eventide.
Her colleagues and the residents feel like an extended family to her, she says. She asks residents to share favorite memories with her and she, in turn, shares details about her young daughter.
Those human connections are what make it home.
"The residents depend on us," she says. "We are the familiar faces to them."