Taylor Block, CNA at Eventide Fargo, has been named Caregiver of the Year by the North Dakota Long Term Care Association (NDLTCA).
As a CNA at Eventide Fargo Care Center, Taylor demonstrates her passion for people. "I enjoy listening to a person's situation and trying to help. I try my best to do everything I can to make people feel comfortable and to let them know that they are cared for, so that they can feel safe and know they have someone to count on," says Taylor. "My favorite part about being a CNA is connecting with residents and their families. I enjoy the community that evolves in a long term care setting. Everyone becomes one big family – it's like nothing I've ever experienced."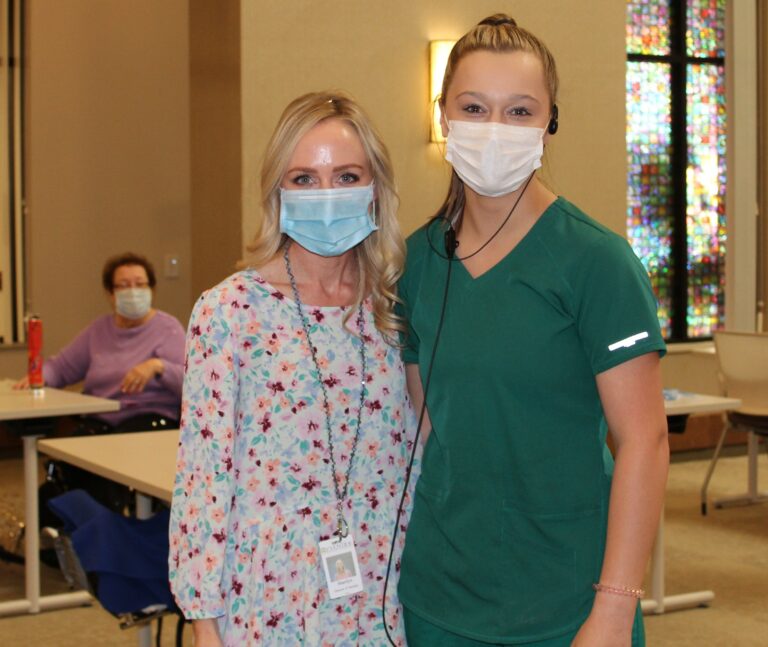 Taylor Block, CNA and award recipient, right, pictured with Sharilyn Althoff, director of nursing
One of Taylor's nominations stated, "Taylor is a gift to my 94-year-old mother, treating her with love, respect and helping her to do tasks that she could no longer perform herself while maintaining dignity."
Taylor credits working as a CNA as an experience that guided her into becoming the person she is today and determining her career. She is currently attending MState in Detroit Lakes to obtain her RN degree and will graduate in December of 2022 and sees herself continuing to work in long term care for years to come.
Taylor grew up in Detroit Lakes, Minn., where she graduated high school. Throughout her high school years, she was active in basketball and other sports, which allowed her to develop an appreciation of the importance of building lasting relationships. At the age of 16, Taylor earned her CNA license and began working at a local skilled nursing facility where she continued to develop and nurture relationships.
Today, Taylor continues her love of sports and activity, especially in the summer months when the weather allows her to spend time doing her favorite things, including lake activities, BBQs, and bonfires. She has an adventurous spirit and enjoys camping, hiking, fishing and all things outdoors.
NDLTCA honors individuals who make a difference working in long term care facilities. The award recognizes employees who go above and beyond to substantially enhance the quality of life for residents/tenants.