Some families just know how to bring the music.
Eventide on Eighth Care Center resident David Berdahl, better known as Davey Bee, comes from a long line of musicians, including his father, Hollywood Big Band musician, Archie Berdahl, who played with the Tommy Tucker band. 
David, a North Dakota Rock Country Hall of Famer, passed his pop-to-punk music passion to his son, John David Berdahl. Together, they are generous enough to share their encyclopedic music knowledge with the rest of us on Davey Bee's Hit Song Vault podcast hosted by Prairie Public Television in Fargo. 
The podcast explores the music and stories behind the world's best songs, from Mozart to Maroon 5. Each 30-minute episode features ten songs on a specific topic, genre or historical period. 
It's also a great way for father and son to bond, which they do frequently during recording sessions at Prairie Public's studios in downtown Fargo.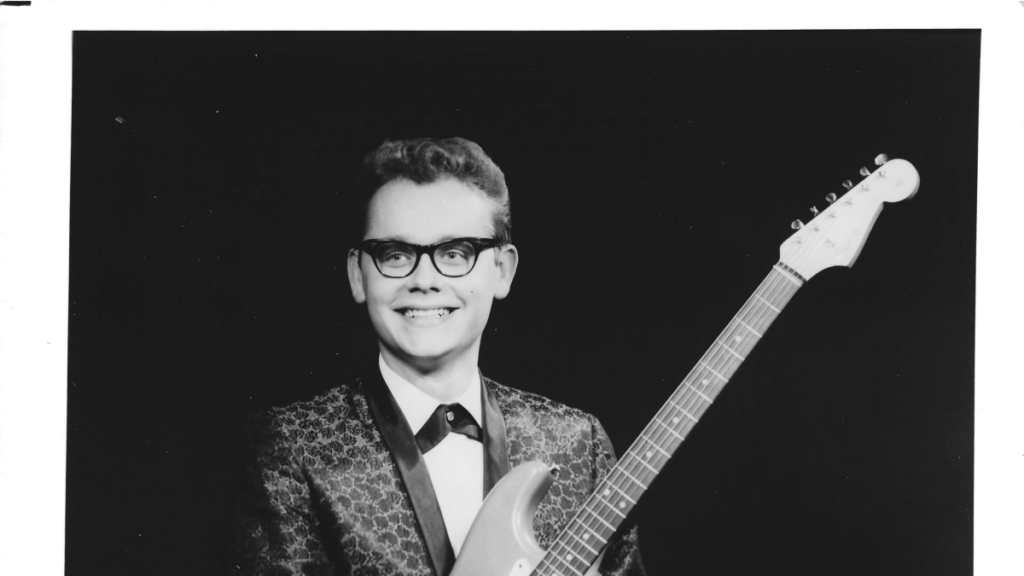 David Berdahl in his younger years performing for Davey Bee and the Sonics. Contributed photo / David Berdahl and family
"It's very rewarding and fulfilling to have a show that son John and I can work together on," David said. "And I know music keeps you young!" (For the record—pun intended—David is 79.)
Lifelong love of song
By his teens, David was lending his voice to the radio waves as a disc jockey for local radio stations in Bismarck. 
A few years later, he launched his national name with the hit single, "Linda Lee," performed by him and his band Davey Bee & The Sonics, which opened for the Everly Brothers, Kenny Rogers and The First Edition, The Vogues, The Hollies, Herman's Hermits.
Listen to Davey Bee & The Sonics – Linda Lee
David relocated to Minot where he established himself as a local radio and TV celebrity and owner of Davey Bee's Guitar City, which later became Beehive Music, Ltd. Davey Bee's Guitar City also had a downtown Fargo location up until David retired. 
Through the decades, he's mastered music history, too, which becomes quite apparent on the podcast when he trades fun facts with his son.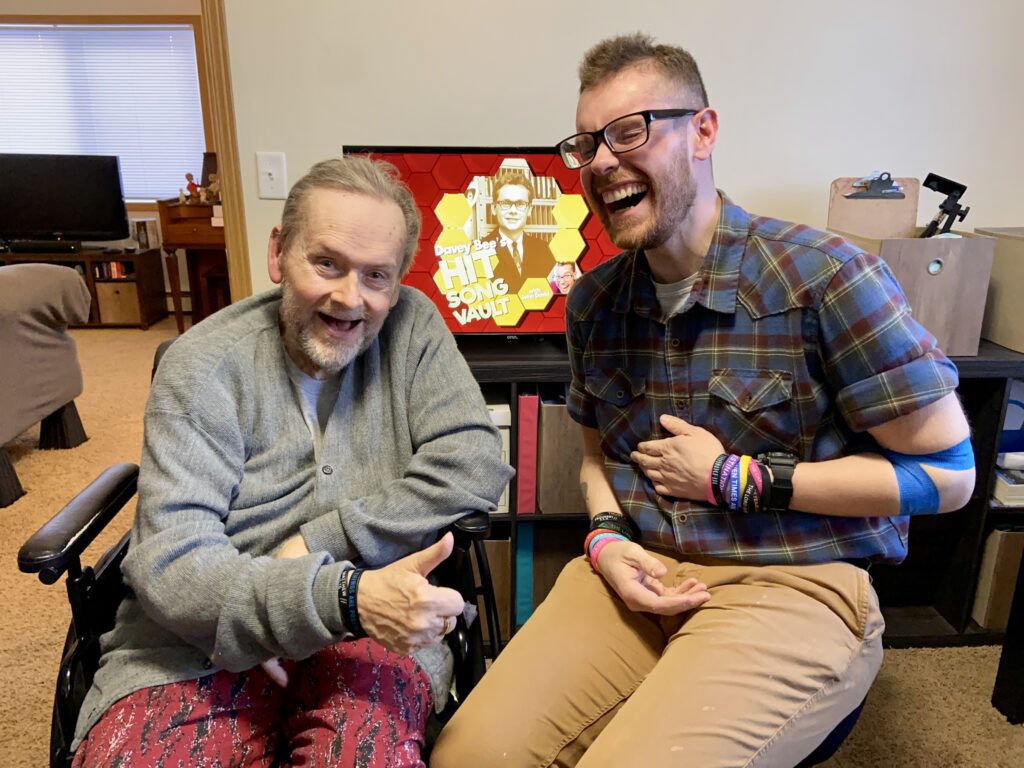 Keeping the music alive
David moved to Eventide on Eighth in Moorhead in 2022, a hop, skip and a jump away from son John David, an artist and arts educator who works in Fargo-Moorhead.
The two are very close. 
"It's great to have this chance to share so much of our music knowledge and passion with so many other generations. The podcast is so multi-generational, you know, that you can hear a Boomer talking to a Millennial, you know, in a very fun and enriching way," John David said. "Definitely that joy is all him and I'm just following the leader. And so he brings that to everything he does. And that's what makes him so great."
WATCH: Davey Bee and John David Berdahl with Ashley Thornberg on Prairie Public's "Mainstreet."
In many ways, the podcast also helps David stay connected to the 40 years he spent in the music industry.
"I have had so much fun being constantly involved in the regional music scene and heading my own band," David said.
For John David, the podcast brings up fond childhood memories growing up in his dad's store, some that are so unique, they're almost unbelievable, like the time he thought The Beach Boys were his relatives.
"What my dad has seen and done, like having played with Merle Haggard, having played with Neil Diamond, offers the rest of us a cultural and historical relevance, but also a legacy, an essential and vital legacy," John David said. "Because of my dad, I got to meet the Beach Boys when I was a kid and I thought they were family members. I thought it was a family reunion sort of thing when I got to hang out with  Carl Wilson, Mike Love and Al Jardine."
North Dakota Today – Davey Bee's Hit Song Vault Podcast
Pumping up the volume at Eventide
David and John David welcome guests on the podcast now and again, including Eventide's very own Chaplain Steve Streed. The trio discussed the music that paved the way for the birth of rock and roll.
Many Eventide staff and residents also get in on the fun from time to time.
"When we're together at Eventide, we just start talking about music and the staff will be like, 'I don't want to leave. I could listen to this all day,' and that's how we got to thinking about sharing our knowledge on the podcast," John David said. "Sometimes we talk about songs about dogs, or sometimes we talk about the birth of rock and roll. The topics are really endless."
After a short hiatus in 2023, David and John David are preparing to continue their third season of the podcast.
"I think future episodes will explore clothing songs and melancholy country songs, clown songs and dynamic duos, and songs all about help, to name a few," David said. 
Listeners can download podcast episodes on Apple, Android, Spotify and other platforms. Connect with David and John David on their Facebook page, and be sure to visit Prairie Public for more information.