Published author and longtime resident of Eventide's The Living Center in Moorhead, Barbara Bustamante says she has "a lot of little stories" to share with the world.
And that's just what this retired bus driver/newspaper librarian intends to do as she ushers in a new career as a writer, something she'd always had in her but only started actively exploring later in life.
"I wasn't always a writer," Barbara says. "I had one poem published in my high school paper, and I had all my writing in one notebook."
A dream deferred … until now
Like most writers, notebooks contain entire worlds of ideas, emotions, thoughts, imagined and real worlds that later take the shape of essays, poems, stories and reflections. So when a younger Barbara's beloved notebook was accidentally destroyed, so was her passion for writing.
"I grieved and didn't write after that," she says. Until recently, that is, thanks to her writing group, Moorhead Friends Writing Group, a small but mighty consortium of fellow scribes that recently released their first anthology, "Tales From the Frozen North."
Barbara has four stories published in the book, "stories that are all based on memories and experiences of mine," she said. "The Christmas Phantom," "Blizzard Dilemma" and "Universal Christmas Tree" and "Spring Storm" all depict growing up in the frigid northern plains region. 
"Tales From the Frozen North" released as an ebook on Amazon March 15, 2022, to critical acclaim. The anthology became a paperback a little over a month later on April 27 and has since made enough in royalties to fund another book project for the group in 2023. 
"We had a book signing at Zandbroz (a local bookstore that also carries copies of the anthology)," Barbara said. "We were able to publish it because we got a grant from the Awesome Foundation."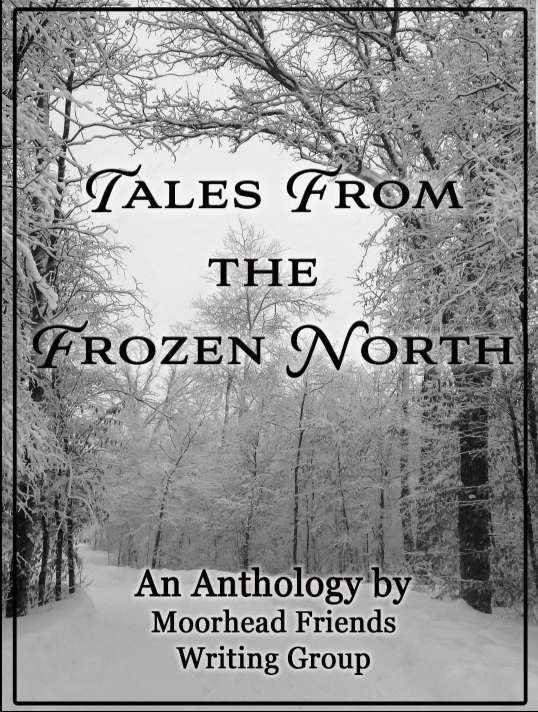 Constructive criticism
Barbara says the workshop-based group started meeting at the Moorhead Public Library in 2017. There were about three or four people regularly attending the workshops when she joined in 2019.
"The group is for new writers who want to get feedback on their writing. The critique part is very important, and the professional authors that come speak with us got to where they are because of groups like this," Barbara says. 
She credits the group's leader, local artist Chris Stenson, for bringing resources and other published authors to the group so they can all learn from one another in a constructive critique environment not unlike those found in graduate-level creative writing courses. 
During the pandemic, the group, which had always met in person at the Moorhead Public Library, was forced to meet via Zoom. While Barbara missed the in-person connection, she also says going virtual opened up the group to people across the country, including successful guest writers.
"Anyone is welcome to check us out," Barbara says. "We're going back to in-person and will have a hybrid way of meeting, so you can join virtually."
Always learning
Although Barbara closed the chapter on her writing career, she's had quite the life, which she describes in a way that suggests she's just getting started.
"I got my degree in Food Nutrition from NDSU in 1997," she says. After that, she took a job as assistant librarian at The Forum of Fargo-Moorhead where she worked for several years.
"This was right before Google, so for the most part, if a reporter needed background information, they'd ask the librarian or go through themselves for data," Barbara says. "We'd pull old archives and then refile for the reporters, which was good because they never put them away in the right spot."
During the mid-2000s, newspapers started digitizing archives and the need for human librarians became obsolete in most newsrooms, which inspired Barbara to change careers. She turned in her card catalogs in exchange for a set of bus keys.
"I was really good at being a bus driver," Barbara says. "To this day, a lot of people see me and remember me as the driver of Route One" in Moorhead. 
Then, after she inherited a box of love letters written between her late mother and father, Barbara reignited her passion for writing.
"My mom said they were just a box of old letters, but to me these were the thoughts and events between the two that inspired me to sit down and start writing," Barbara says. "I felt ready to share my writing, too."
'Let 'er rip'
Today, Barbara is sure to have a notebook and pen along with her so she can jot down character descriptions, plot lines and scene details. She's a flurry of ideas.
"I have notes with me everywhere. Sitting in my car waiting for a train to pass, I get an idea for a story or a line and I write it down," Barbara says. "I've got little scraps of paper all over the place. When I get an idea, I put the notebook on my knee and let 'er rip."
She admits she's not a disciplined writer and describes herself as a "pantser," – "I write by the seat of my pants," she says. Barbara describes others in her writing group as "plotters," – "the writers who need an outline and know exactly what's going to happen." 
'When the cat's away, the mice will play'
Of course, there's no wrong way or right way to write as a process, and Barbara is testament to that. Because she mostly writes creative nonfiction and memoir, Barbara's current project is to document some of the stories she's witnessed during her 9.5 years living at The Living Center.
"I've renamed the place and the people but it's definitely a senior community. Some it's about the funny moments," she said. "Like 'when the cat's away, the mice will play.' "
Overall, though, Barbara emphasizes how much she's enjoyed living in an Eventide community for almost a decade. "Eventide maintains the building and they're all amazing. I do like it here," she says.
What's next
There's a lot more writing in Barbara's future. She plans to stay a part of the Moorhead Friends Writing Group and continue crafting her senior living memoir, a practice she describes like following a recipe.
"Writing is like getting a recipe ready. Sometimes you cut back on the cinnamon because it's too strong for the taste you're going for," she says. "There has to be balance and it has to come out in the flavor you want. For me, when I get to the end of the story – my recipe – I want to leave the reader wanting more."
Hungry for more?
"Tales from the North" is available for purchase at Zandbroz Variety in downtown Fargo or on Amazon. Follow this link to order your copy.