Katherine has worked for Eventide Senior Living Communities since 2015.
People may think senior living activities staff have the "easy" jobs. But if you've ever tried to wrangle a group of highly competitive card players during a late-afternoon happy hour, well, it can get intense, to say the least.
Like a good coach, Eventide Fargo's Director of Life Enrichment Katherine Musielewicz is a pro at making sure everyone's having a good time without letting things don't get too out of hand (especially during Booze and Tattoos sessions or impromptu dance parties).
In other words, Katherine knows how to keep a crowd entertained and her team focused, all while making sure residents who typically prefer to sit on the sidelines get involved when they feel like it.
Katherine and her team are always looking for interactive and adaptive activities, like tie-dying shirts.
More than just fun and games
As a life enrichment director, Katherine leads efforts to provide residents and staff meaningful, engaging activities. She also strives to offer activities that are both physically and cognitively accessible. 
"We plan and implement activities in group and individual settings," Katherine said. "Our main goal is to get people doing things that make them feel happy and included."
Katherine said she frequently asks residents for their input on what types of activities would make them feel most energized and comfortable. 
"I take the perspective that this is our residents' homes; where they live, and we're really living in their world," Katherine said. "So we just try to plan things according to their preferences. Most of them are up for a challenge, and things like our Booze and Tattoos get pretty rowdy."
For Booze and Tattoos, Katherine and her team order temporary tattoos and non-alcoholic beverages. "Some people want full sleeves," she said. "It's really crazy and fun."
Other popular events include painting classes and the newly formed Eventide University, which hosts local community members sharing topics of interest, such as local history, Bloody Mary bars, and poetry writing.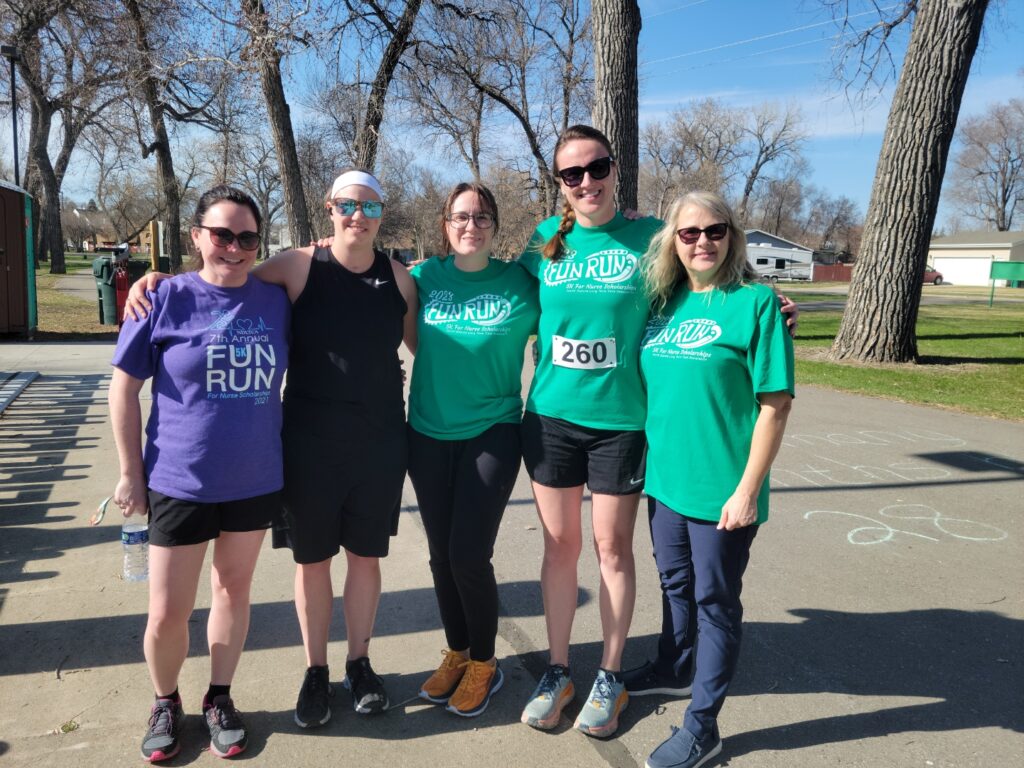 Katherine, second from left, loves being active and has a degree in Exercise Science from Concordia College.
From athletics to activities
A Montana native, Katherine graduated from Concordia College in 2011 with a degree in exercise science. 

She and her husband Dino lived in Pennsylvania for a stint where Katherine worked at a chocolate company and Dino worked in finance at Cargill. They found themselves wanting to make their way back to the upper Midwest, though, and eventually returned to the area in 2015.

Katherine worked as an activities coordinator at the Eventide Moorhead community until she and Dino moved to the Twin Cities. However, like many Eventide employees, she left but eventually came back. In 2017, Katherine's friend notified her of an opening for a director of life enrichment position at Eventide in Fargo. Katherine applied, got the job, and so her growing family moved back to the Fargo-Moorhead area.

Today, Katherine manages a team of about seven activities coordinators and music therapists. She loves to help them get the most out of every moment they spend with residents.

"We work hard at Eventide to build a kind of culture where we can empower all staff to sit down and just chat with residents or pick up a deck of cards, and just spend a few minutes with them," Katherine said.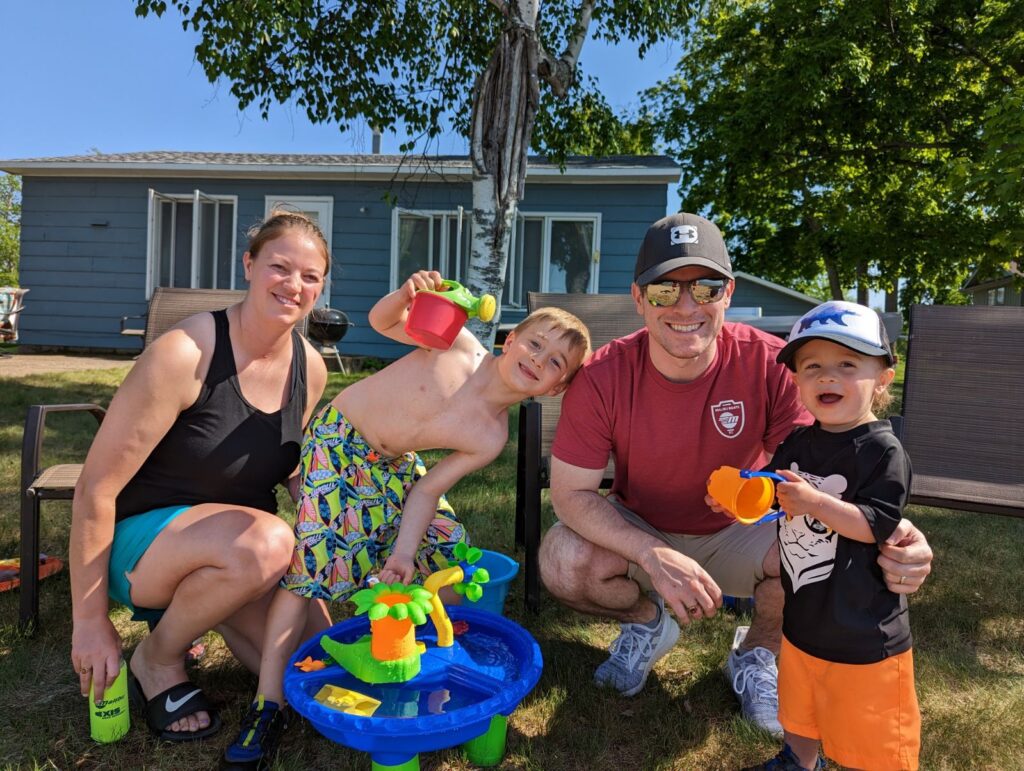 Katherine and her family at their home in Moorhead. From left: Katherine, son Beckett, husband Dino and son Wells.
Because Katherine also works with memory care residents, she's extra cognizant of meeting all people where they're at—and taking cues from family who know their loved ones best. 
"It's always nice to learn about the residents when they were younger," she said. "The families who visit and tell us stories …  we can feed off of and make our residents' lives better."
The more she and her team know about residents, the better quality of life they have. 
"We're literally running all day long, and we're seeing more residents wanting to get out and be more active than before," Katherine said. "It's great because it just gives us more options."
More options, like when she introduced remote control race cars.  
"We got these race cars and did a test run on a portable race track inside," Katherine said. "One of our residents goes, 'You know, we're gonna have to buy those right?' And I'm like, 'yep.' "
And while it remains a challenge to get 100 percent participation in the activities (a lofty goal for anyone), Katherine said that at the end of the day, as long as everyone is 100 percent happy, then she's done her job.
"We're here for our residents and we're here for all the right reasons, and that's to make life great for them," Katherine said.