Eventide Fargo Maintenance Technician Adam Fischer is a busy guy. 
He helps maintain 98 care center rooms, 76 apartment living homes, two large lobbies, several common areas and kitchens, a huge parking lot and greenery area that spans at least four generous city blocks, residential garages, fire equipment, HVAC systems, a giant boiler room, snow removal, and lawn care. 
"The list is endless," Adam said. 
Yet, his most requested (and favorite) service requests are simple; things like changing a lightbulb and setting an alarm clock.
"Those are the best, when residents grab me when they see me walking the hallways and ask if I can help them replace a battery or figure out why an electrical outlet isn't working," Adam said. "They're the best because the residents are so thankful someone is here to help with simple tasks."
Adam said the sheer level of gratitude from people for the work he does makes stormy days in the skid steer scooping up snow drifts totally worthwhile.
"Just this morning I helped a lady reset a button on an outlet that operates half her kitchen appliances," he said. "Afterwards, she asked, 'Can I give you a hug?' And I said, 'Of course! Come on over here!' "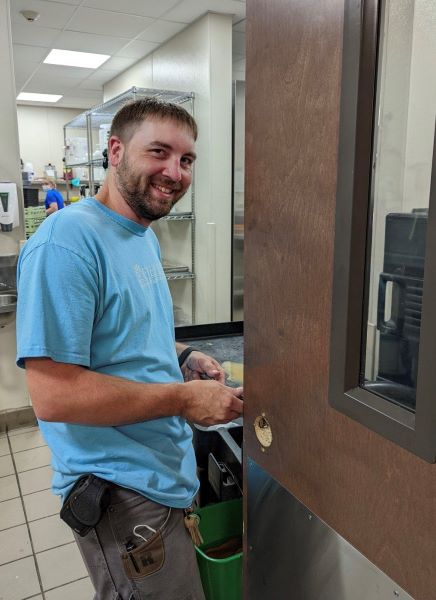 A day in the life
Since 2016, Adam has been an Eventide employee, when he started out as a driver who helped shuttle residents to and from various appointments and activities.
"That was actually hard work," he said. "I couldn't sit down for eight hours a day anymore. I loved visiting with people, but sitting in the van all day long, hardly moving, resulted in sciatica and I could barely walk when I got home from work."
He'd always wanted to be on the maintenance side of things at Eventide, so when a position opened up, he grabbed it. Since then, Adam's learned on the job many valuable skills as a plumber, electrician, HVAC guy, apartment renovator, squeaky wheel fixer and electrical outlet resetter extraordinaire.
"We've got lots of big jobs going on all the time," Adam said. "And we've got the little ones, too, that make such a big difference for the people I get to help."
Eventide maintenance teams are in charge of life safety measures which means they're constantly testing alarms, checking fire exits and extinguishers, elevators and monitoring for any red flags. It's all a part of keeping residents and staff at Eventide safe, comfortable and happy 24 hours a day, seven days a week.
"I love learning on the job, and a lot of it seems like common sense now after so many years," Adam said. "Some people wear one hat. I wear lots of hats."
Adam also likes that he can contribute his ideas to making Eventide an even better, safer place for people to live and work. "We were doing an apartment remodel and I realized that all the counters have sharp corners, so I suggested we put a curved radius on the counter corners so they're one less area people can bump into and get hurt," Adam said. "I also got us to remove all the mulch around the perimeter of the buildings so we can add large rocks that won't erode when the weather gets bad or we have lots of rain. It seems like little ways I get to contribute, but they do mean a lot to me."
All in the family
Adam is a 2003 graduate of West Fargo High School and is married to Kelsey, a CNA who's worked at Eventide for about 15 years.
"It's kind of all in the family now," he said, as Kelsey's mother Holly and father Dale both work at Eventide Sheyenne Crossings. On board, too, is Tyler, Adam's soon-to-be brother-in-law. "Kelsey got into the nursing side because she grew up watching her mother do that work and felt drawn to it as well. She does pretty much know how to find me any time of day, though."
His work family is pretty cool, too, Adam said, though for him it's all about the residents. "I could get the best accolades from my bosses, but they pale in comparison to a compliment I might get from a resident," he said. "The residents really keep me going. It's happiness in the simple things."
Adam and Kelsey have two young boys who love playing catch and going to country rock concerts. The jury's out on what they want to be when they grow up, but it'd be a relatively safe bet to say Eventide is in the running.
Now hiring!
Eventide Senior Living Communities currently has many openings in a variety of career pathways. With competitive pay, education benefits and a diverse, inclusive work culture, check out what else we have to offer at https://eventide.org/careers.
Come be our next #DifferenceMaker!