In the spring, not much beats the feeling of deep cleaning from floor to ceiling.
But as we age, certain medical conditions or physical limitations might change just how much we can put into our regular spring-cleaning routine.
Chores like climbing ladders to clean the gutters, getting down on the floor to scrub some grout, or even pulling weeds in the garden can result in short- and long-term injury if we're not careful or if we don't ask for help.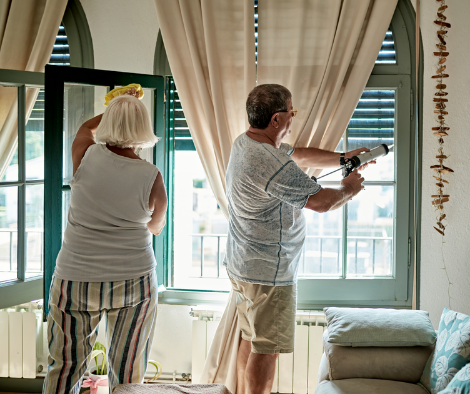 When to ask for help
Maybe you're just completely over doing these kinds of tasks around the house, and you'd rather just hire help or a trusted friend or relative to come over and do the work for you. That's great! You've embraced retirement life to the fullest! (Way to #GrowBolder!)
Or maybe you do have a health concern that has you feeling a little uneasy about using a ladder this year. Some common medical concerns that may limit our abilities to do heavy chores are:
Heart conditions
Dizziness
Balance issues
Memory concerns
Poor hearing or vision
Certain diseases such as Parkinson's and Alzheimer's
Common issues like arthritis, osteoporosis and orthostatic hypotension
Just because we are older than we once were doesn't mean we can't participate in spring cleaning activities! We're not just older, but also wiser, which means we know that hiring or asking for assistance is the first step in creating a safe spring-cleaning routine.
Here are spring cleaning safety tips for those of us who still want to participate in the seasonal activities but may not be as physically capable as we once were.
Lighten the load
First off, there's a difference between light housework and the heavy-duty chores we often embark upon as part of our spring-cleaning rituals. Cleaning out gutters, removing storm windows, scrubbing grout are all heavy housework that, as we get older, become more challenging.
What's considered light housework?
Indoors
De-junking a junk drawer
Dusting easy-to-reach shelves and cabinets
Sweeping laminate flooring
Scrubbing out sinks
Cleaning the refrigerator and microwave
Outdoors
Sweeping walkways
Planting flowers in raised garden beds
Refilling bird seed containers
Watering shrubs
What's considered heavy housework?
Indoors
Scrubbing floors and grout
Dusting hard-to-reach areas like the top of ceiling fans or shelving
Painting walls
Hanging decorations
Rearranging furniture
Outdoors
Raking and bagging leaves
Cleaning gutters
Washing exterior windows
Repairing lawn equipment
Most yard work
Just having a better idea of what's considered light work and heavy work is helpful to know before you create that "honey do" list.
Need extra help?
For some of us, asking family or friends for help isn't so easy. Even though it's not a sign of weakness or failure to ask an adult child or younger friend to come over and unclog the gutters for you, it can certainly feel like it.
One way to make it feel a little more comfortable is to follow up the chore with a favorite activity you share with the person, like watching a sports game or going out for a beer.
Sometimes, if you have the money, it can be more comfortable to hire out help for the heavy-duty chores. Common services we recommend include:
Taskrabbit – This service allows you to reserve handymen/women to come to your house to do home repairs, assemble furniture and even install things like TV wall mounts. Like reserving an Uber ride, you are charged after you've received the service from your task rabbit.
Angi – This is an online service that pairs you with a local handyman/woman or contractor that will come to your home and take care of whatever you might need. Angi will also gather quotes for you, so you know ahead of time what the cost is going to be.
If the idea of inviting a stranger into your home makes you nervous, the next best advice is to ask your friends and neighbors for recommendations on handymen they might hire to do similar chores at their homes.
Ready to put spring cleaning behind you?
Maybe it's time to #GrowBolder in style (without the housework). Eventide's Senior Living Communities offer excellent chore-free living! Schedule a tour today.