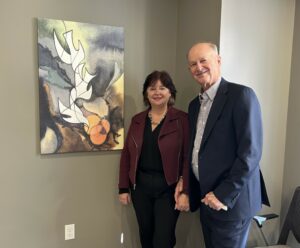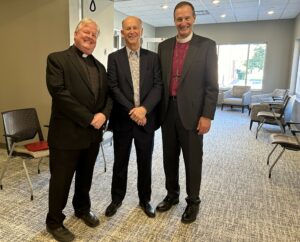 October 15, 2023 — Residents and family members gathered for the dedication of Streed Commons and two paintings by Chaplain Steve Streed donated to the space at Eventide's campus in Moorhead.
Streed Commons is near the main entrance of Eventide on Eighth in Moorhead, with a fireplace and furniture for people to gather. The space offers access to the chapel and Chaplain Streed's office.
Northwestern Minnesota ELCA Synod Bishop Bill Tesch and Gran Park Rollag Lutheran Church Pastor Jim Greene spoke in honor of Chaplain Streed.
"Streed Commons is a warm, colorful and creative space," said Bishop Tesch. "These are all words I would also use to describe Chaplain Streed."
Pastor Greene shared how in all the years he has known Chaplain Streed, he has been welcoming to all and that Streed Commons is an extension of Chaplain Streed's comforting nature.
Chaplain Streed has been a full-time chaplain at Eventide in Moorhead for 32 years. He is the son of a commercial artist and worked as an apprentice under his father, Emil Streed, for several years before completing his BA in Fine Arts from Gustavus Adolphus College, St. Peter, Minn.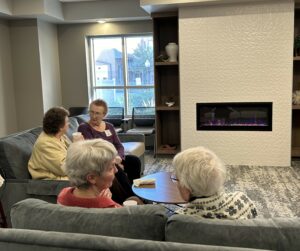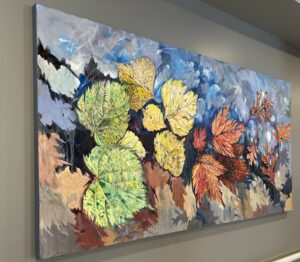 Called by the arts but also to ministry, Streed graduated with a Master of Divinity from Northwestern Seminary in St. Paul, and later earned his Doctorate in Ministry from Luther Seminary in St. Paul.
For his dissertation, Streed chose to focus on the topic of aging with spirituality and developed a framework to help people navigate the aging process.
All his life, Streed has combined his two vocations by creating stained-glass pieces and paintings for several churches and institutions in the region. Recognized in various juried art exhibits both in the United States and in France, he is regularly represented in galleries in both countries.
Read more about Chaplain Steve Streed.
About the paintings
"Seasons of Our Life," the oil painting of leaves. The leaves represented are the linden leaves in green, (for The Linden apartments) represents the spring. The cottonwood leaves in yellow represent summer. The maple leaves in red, yellow and orange signify the autumn and oak leaves in deep red and brown, are for winter. Leaves are mentioned throughout the Bible and in Psalm 1:3, "That a person is like a tree planted by the streams of water, which yields its fruit in season and whose leaf does not wither- whatever they do prospers," in Psalm 92:13,14, "Those who are planted in the house of the Lord shall flourish in the courts of our God. They shall bear fruit [leaves] in old age; They shall be fresh and flourishing," and in Mark 13:28, "Now learn this lesson from the fig tree: As soon as its twigs get tender and its leaves come out, you know that summer is near."
The print of the doves was made from Chaplain Streed's original watercolor which was painted at White Earth Youth Camp during senior high week when the subject was the Holy Spirit. Chaplain Streed picked up the brush and what resulted was "Free Spirit," a painting of three doves descending in a flowing motion to Earth.